I hope everyone had a wonderful Thanksgiving feast day. We did and, of course, we're still eating the leftovers. I love 'em. I know lots of people love the day after Thanksgiving – Black Friday. It's not for me. I've never cared much for competitive shopping. I leave that to the Super Shoppers. If that is you, I hope you managed to get some great bargains.
The last couple of decades, my practice at this time of year has been to slow down and enjoy it all. This coming month I'm going to concentrate on finding the right gifts for those I love, baking/cooking a few selected treats, watching some classic Christmas movies, and reading special books.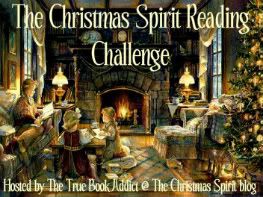 I'm joining in The Christmas Spirit Challenge. I have  a few books already chosen and the rest will come along as the spirit moves me.
First on the list is Debbie Macomber's Christmas Cookbook. Why am I reading this one? Because I love everything this author writes. Plus, she is one of those people who really loves Christmas. Every year for quite some time she has writen a book set in this season. Some of you may know her characters: Shirley, Goodness, and Mercy. And then there is also Mrs. Miracle.
Debbie loves children and being a grandmother, and it shows. The children in her books are totally lovable. In her new Christmas Cookbook she has a wonderful chapter called "Cooking With Grandma." The recipes look like they would be fun for everyone, including the two craft projects.
Another chapter I like is one called "Christmas Gifts." There are recipes for special cookies as well as other gifts like Many Bean Soup Mix and a couple more crafts. The rest of the book is focused around Christmas: Dinners for Christmas and Christmas Eve, recipes for Appetizers for an Open House, and lots of belly-filling, old-fashioned family dinners. It's a great resource for the holiday. It would also make a super gift for a Debbie Macomber fan.
Look for Debbie Macomber's Christmas Cookbook at your local library or bookstore. Debbie Macomber's Christmas Cookbook
 is also available at Amazon. (I am an Amazon Associate.)
This post is linked to Weekend Cooking, a weekly feature at Beth Fish Reads. Click the button below and it will take you there.